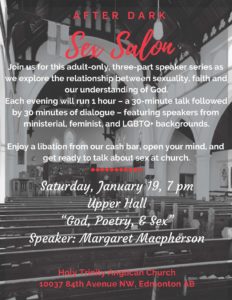 Saturday, January 19, 7:00PM
Upper Hall at Holy Trinity (10037 84 Ave. NW Edmonton)
"God, Poetry, & Sex" – This After Dark salon will use a creative component to help find words to express the relationship between God and sex. After brainstorming the differences between erotic desire and love, participants will be invited to create, contemplate and ultimately name a metaphoric object. This session will be interactive, honest, uninhibited, and fun, so please consider joining us on Jan 19th  at 7 pm in the Upper Hall of Holy Trinity Anglican Church.
Speaker: Margaret Macpherson
Join us for this adult-only, three-park speaker series as we explore the relationship between sexuality, faith, and our understanding of God.
Each evening will run 1 hour – a 30-minute talk followed by 30 minutes of dialogue – featuring speakers from ministerial, feminist, and LGBTQ+ backgrounds.
Enjoy a libation from our cash bar, open your mind, and get ready to talk about sex at church.