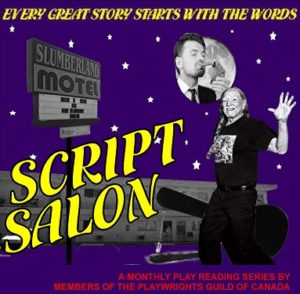 Script Salon: A Monthly Play Reading Series By Members of the Playwrights Guild of Canada
SCRIPT SALON showcases some of the most talented theatre writers in the region with new plays ripe for production read by professional actors in the elegant setting of Holy Trinity Anglican Church. Presented the first Sunday of every month with a different play by a different playwright featured every time, SCRIPT SALON is a bounteous buffet of sizzling comedy, drama, romance and adventure forged by the power of imagination.
The First Sunday of Every Month at 7:30PM
Holy Trinity Anglican Church 10037 84 Avenue, Edmonton
Free Admission (Donations Accepted) – Refreshments – Playwright Talk Back
Upcoming… 
May 7 – Velvet Revolution By David van Belle
1989 Czechoslovakia. After protests initiated by drama students, forty years of Communist rule were ended in ten days. By the end of that year, a playwright, Václav Havel, was elected President. Velvet Revolution explores the power of theatre to effect political change and the remarkable actions of the new artist-led government
…And many more in the months to come! 
Sponsored and Supported by The Playwrights Guild of Canada, The Alberta Playwrights Network, and Holy Trinity Anglican Church.