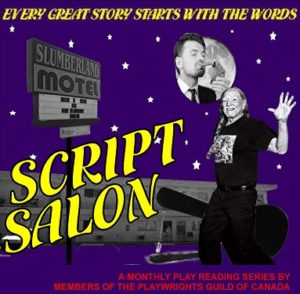 Script Salon: A Monthly Play Reading Series By Members of the Playwrights Guild of Canada
SCRIPT SALON showcases some of the most talented theatre writers in the region with new plays ripe for production read by professional actors in the elegant setting of Holy Trinity Anglican Church. Presented the first Sunday of every month with a different play by a different playwright featured every time, SCRIPT SALON is a bounteous buffet of sizzling comedy, drama, romance and adventure forged by the power of imagination.
The First Sunday of Every Month at 7:30PM
Holy Trinity Anglican Church 10037 84 Avenue, Edmonton
Free Admission (Donations Accepted) – Refreshments – Playwright Talk Back
Upcoming… 
 THE BLUE HOUR
by Michele Vance Hehir
THE BLUE HOUR is the story of what goes on behind closed doors in a small Alberta town, Roseglen, in 1947. The pastor of the Last Hope Assembly and his relationship with a 15-year-old girl has consequences. It's a beautifully drawn and raw play about turning the other cheek and turning a blind eye. Readers are Coralie Cairns, Oscar Derkx, Emma Houghton, Kristi Hansen, Jenny McKillop, Garett Ross and George Szilagyi. Stage directions are read by Reed McColm.
Michele Vance Hehir has written and produced plays for the Edmonton Fringe Festival (Ruminations of Maud and Ruminations of Gayle). Her piece Talkin' to Harry,performed by Coralie Cairns, was part of The Mommy Monologues at this year's SkirtsAfire Her Arts Festival and her monologue, the pee pee boy, was presented at Encounters at the Citadel Theatre's 50th anniversary celebration in June of last year. She is writing and producing a new play, Ruination: 3 Short Stories for this year's Edmonton Fringe Festival at The Walterdale Theatre, starring Julie Golosky, Alyson Dicey and Marc Ludwig. The Blue Hour was written as part of the Citadel Theatre's Playwrights Forum facilitated by Colleen Murphy.
Sunday, July 2, at 7:30 in the Upper Arts Space at Holy Trinity Anglican Church (10037 84 Avenue). Doors open at 7.
Admission is free, but donations are accepted at the door. Refreshments available. Free parking. Playwright talkback after the show.
SCRIPT SALON is supported by Holy Trinity Anglican Church, the Playwrights Guild of Canada, Alberta Playwrights Network and a loyal group of audience members. Since 2014, Script Salon presents every first Sunday of the month at 7:30 pm in the Upper Artspace of Holy Trinity Anglican Church.
Sponsored and Supported by The Playwrights Guild of Canada, The Alberta Playwrights Network, and Holy Trinity Anglican Church.