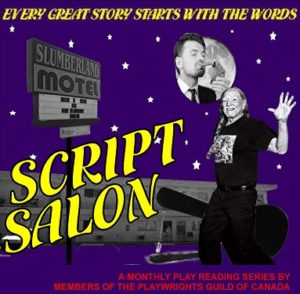 Script Salon: A Monthly Play Reading Series By Members of the Playwrights Guild of Canada
SCRIPT SALON showcases some of the most talented theatre writers in the region with new plays ripe for production read by professional actors in the elegant setting of Holy Trinity Anglican Church. Presented the first Sunday of every month with a different play by a different playwright featured every time, SCRIPT SALON is a bounteous buffet of sizzling comedy, drama, romance and adventure forged by the power of imagination.
The First Sunday of Every Month at 7:30PM
Holy Trinity Anglican Church 10037 84 Avenue, Edmonton
Free Admission (Donations Accepted) – Refreshments – Playwright Talk Back
April 2
To celebrate the 3rd anniversary of Script Salon, there will be pre-show music by David Unsworth from 7 to 7:30. After the reading, which runs about 70 minutes, there will be birthday cake during intermission, followed by a talkback with the playwright.
DEADSTOCK – A young girl meets a lone woman on the outskirts of a town where dark secrets are buried.
When seventeen-year-old Carson meets Sally Harrow for the first time, she finds herself pulled into the gravedigger's strange and isolated world. However, Carson's father, Madoc, is determined to keep the two apart at all costs. The ensuing battle of wills forces all three to come face to face with a long-buried secret.
Read by Brian Dooley, Patricia Cerra and Kristine Nutting.
Dramaturgy by Heather Inglis.
Deadstock by Bevin Dooley won the Alberta Playwriting Competition Novitiate Prize for 2016. Bevin, who holds her MFA in playwriting from Trinity College Dublin, was also a member of the Citadel Theatre's Playwrights Forum and is currently an RBC Emerging Artist Mentee through Alberta Playwrights Network. Her next project is Slack Tide for the 2017 Edmonton Fringe.
Upcoming… 
May 7 – The Wrong People Have Money – Reed McColm
Stinking rich cads buy Greenland and attempt to move it South.
…And many more in the months to come! 
Sponsored and Supported by The Playwrights Guild of Canada, The Alberta Playwrights Network, and Holy Trinity Anglican Church.