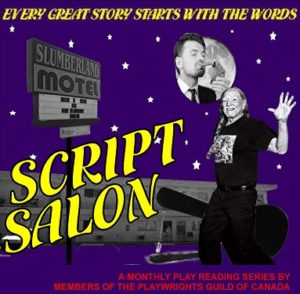 Script Salon: A Monthly Play Reading Series By Members of the Playwrights Guild of Canada
SCRIPT SALON showcases some of the most talented theatre writers in the region with new plays ripe for production read by professional actors in the elegant setting of Holy Trinity Anglican Church. Presented the first Sunday of every month with a different play by a different playwright featured every time, SCRIPT SALON is a bounteous buffet of sizzling comedy, drama, romance and adventure forged by the power of imagination.
The First Sunday of Every Month at 7:30PM
Holy Trinity Anglican Church 10037 84 Avenue, Edmonton
Free Admission (Donations Accepted) – Refreshments – Playwright Talk Back
Upcoming… 
June 4th  – 10 Funerals by Darrin Hagen
10 FUNERALS tells the story of two men who have been partners through the most momentous decades of gay history… even if all they have in common is the funerals they attend. Travel back and forth across the decades of a life together with Jack and Maurice: partners, lovers, strangers and survivors. 10 FUNERALS is read by Braydon Dowler-Coltman, Doug Mertz, Richard Gishler and Ben Stevens.
Darrin Hagen is an award-winning playwright, composer and drag artiste. He is the author of The Edmonton Queen: Not a Riverboat Story, which won a Sterling Award. For his multi-talented work in the theatre, he has received six other Sterling Awards and forty Sterling nominiations. Darrin is the Artistic Director of Guys in Disguise. Other plays include With Bells On, Witch Hunt at the Strand, Buddy, BitchSlap! and Tornado Magnet: A Salute to Trailer Court Women.  Recently, Darrin and  cohort Trevor Schmidt debuted the world premiere of Klondykes, adding to the list of plays by Darrin and Trevor: Flora & Fawna's Field Trip!, Psychobabble, Triple Platinum, Dragula and Prepare for the Worst!
Sponsored and Supported by The Playwrights Guild of Canada, The Alberta Playwrights Network, and Holy Trinity Anglican Church.