Night of 1000 RuPauls, August 31
Posted On August 22, 2019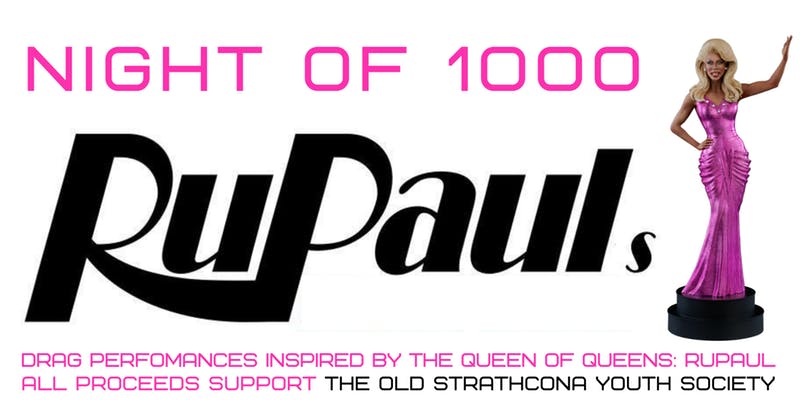 Friday, August 31, 2019
Lower Hall at Holy Trinity (10037 84 Ave. NW)
Doors open 7:30PM, Show begins at 8:15PM
Tickets $15 from Eventbrite
Night of 1000 RuPauls is a charitable evening loaded with fabulous drag entertainment inspired by the legendary RuPaul Charles and a fun competition to determine which of our fair city's queens are the most RuPaul of them all. ALL FUNDS raised support programing for at-risk youth at the Old Strathcona Youth Society (OSYS).
Hosted by local drag superstars Chanelle Couture and Cupcake, Night of 1000 RuPauls is an ALL AGES (PG-13) show featuring performances by Bianca Love Good, Kelli Eletrix, Richard Dickson, Charlie Rain, Olivia Leads, Maleficent Couture, Desiré Devine and your lovely hostesses Chanelle Couture and Cupcake and more…
Live beats, mixes and performances by talented OSYS house DJ Deadly Nedly and rapper Micky Pop.
Come learn about the harm reduction approach to services offered by the Old Strathcona Youth Society while raising money to ensure we exist for those who need us most. Night of 1000 RuPauls is intended to raise awareness, raise dollars and celebrate our diverse community.