Artist Jenna Mortemore returns to Holy Trinity for a third Fringe to continue her interactive chalk art on the front sidewalks outside venues 25, 26 & 27. This year's theme is On the Fringe of Heaven: Journeys to Hope.  Join Jenna as she creates images that remind us that we are engaged in a journey during our life.  A journey that can take us to strange and sometime uncharted regions.  Journeys that can stretch us and fill us with hope.  It is also a reminder that as 4th century mystic and Bishop Gregory of Nyssa said, we are a  journey of spiritual progression that takes us "initial darkness or ignorance, then spiritual illumination, and finally a darkness of the mind in contemplation of the God who cannot be comprehended."
Jenna Mortemore graduated in 2011 from the University of Alberta with a BFA in Art and Design. She then went on to study at Pixel Blue College, graduating in 2012 with a Diploma in 3D Animation and Modelling. She currently works as a UI designer and 3D Artist for a local mobile app development company, Nobis Studios. She is happy to be back for her third Fringe Festival doing chalk art at Holy Trinity, and looks forward to seeing everyone there! You can check out more of her work at www.jennamortemore.com.
Jeremiah 29:11 For I know the plans I have for you, declares the LORD, plans for welfare and not for evil, to give you a future and a hope.
Romans 8:24-25 For in this hope we were saved. Now hope that is seen is not hope. For who hopes for what he sees? But if we hope for what we do not see, we wait for it with patience.
Day 1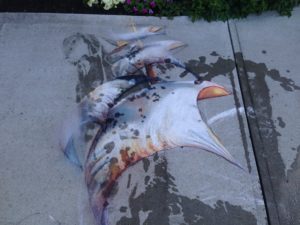 Day 2
Day 3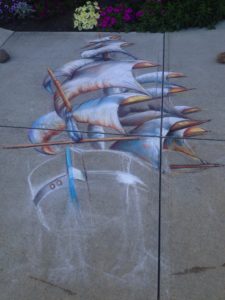 Day 4
Day 5
Day 6