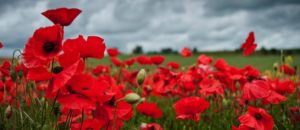 You are invited to join us on Sunday, November 11 at 9:45AM for a Remembrance Day Prayer Service at Holy Trinity Anglican Church.
Together with the South Alberta Light Horse (SALH) Regiment we welcome Premier Rachel Notley, MP Linda Duncan, City Councillor Tim Cartmell, Bishop Jane Alexander of the Anglican Diocese of Edmonton, and clergy from Trinity Evangelical Lutheran Church and Paroisse Saint-Thomas-d'Aquin. Premier Notley will be bringing a special reflection during the service.
In honour of the 100th anniversary of the end of WWI, a special display is being created at the church featuring 100 tulips, a symbol of international friendship, as well as high quality replica Nursing Sisters and Soldier's uniforms, graciously on loan from Fort Edmonton Park.
The church service will end at approximately 10:30AM at which time the SALH Troops will lead a parade down Whyte Avenue to the Cenotaph at Light Horse Park (83 Ave. and 104 St.) where a ceremony will take place. Refreshments to follow at the Old Armoury, courtesy of Youth Empowerment and Support Services.
Please join us as we honour, remember, and pray for those who have served our country
Other Remembrance Day Weekend Events at Holy Trinity: