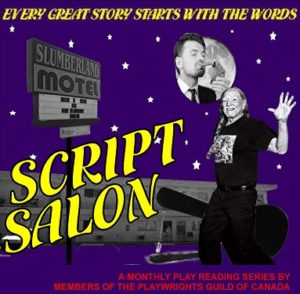 Script Salon: A Monthly Play Reading Series By Members of the Playwrights Guild of Canada
SCRIPT SALON showcases some of the most talented theatre writers in the region with new plays ripe for production read by professional actors in the elegant setting of Holy Trinity Anglican Church. Presented the first Sunday of every month with a different play by a different playwright featured every time, SCRIPT SALON is a bounteous buffet of sizzling comedy, drama, romance and adventure forged by the power of imagination.
The First Sunday of Every Month at 7:30PM
Holy Trinity Anglican Church 10037 84 Avenue, Edmonton
Free Admission (Donations Accepted) – Refreshments – Playwright Talk Back
SCRIPT SALON is sponsored and supported by the Playwrights Guild of Canada, Alberta Playwrights Network and Holy Trinity Anglican Church.
For further information, please contact David Belke at 780 437-7507
February 5 – Slumberland Motel – Collin Doyle
Two weary traveling salesmen discover unexpected redemption and relief in a roadside motel.
March 5 – Chasing Willie Nelson – Andrea House
A romantic evening of storytelling and song as Edmonton's favourite songbird finds inspiration and love in the songs of Willie Nelson.
April 2 – Deadstock – Bevin Dooley
A young girl meets a lone woman on the outskirts of a town where dark secrets are buried. Winner of the 2016 Alberta Playwriting Competition.
May 7 – The Wrong People Have Money – Reed McColm
Stinking rich cads buy Greenland and attempt to move it South.
…And many more in the months to come! 
Sponsored and Supported by The Playwrights Guild of Canada, The Alberta Playwrights Network, and Holy Trinity Anglican Church.