The Fringe @ Holy Trinity: Trolls & Tribulations
Posted On July 30, 2013
Trolls & Tribulations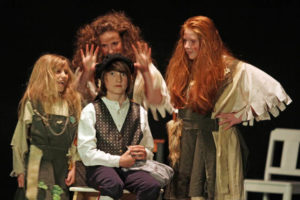 Three lively stories from Norway performed by 20 talented young actor/raconteurs acting,
dancing and singing their way into your hearts. 
Tatterhood: Unusual birth begets unusual princess who flaunts conventions and takes on a pack of trolls with her twin sister and beloved goat.
The Wolf Sings: A ravenous wolf with delusions of operative stardom come head to head with a dog with a healthy fear of rolled-up newspapers.
The King's Rabbits: Featuring three brothers, an impossible quest, a feisty princess, embarrassingly affectionate royal parents, socially unacceptable forest hermits and some really big rabbits.
All shows at The Holy Trinity Anglican Church Lower Hall:
Saturday, August 17, 1:00-3:00pm
Sunday, August 18, 2:00-4:00pm
Tuesday, August 20, 2:15-3:15pm
Thursday, August 22, 11:00am-1:00pm
Saturday, August 24, 1:00-3:00pm
Suggested age: 6 years and older
Length: 2 hours with intermission
Price $10 for all
* Groups rates available for Out-Of school care groups if booked in advance (at least 2 days before each performance) through Bethany Elis: bevido@telus.net