Arts at Holy Trinity
The Holy Trinity Concert Series  and  The Edmonton Recital Society Present ESO All-Star Featuring: Allene Hackleman – Horn & Sarah Ho – Piano Sunday, May 18th, 2014 at 2:00pm Holy Trinity Anglican Church 10027 84 Avenue NW Admission is free Donations welcome Allene Hackleman Hackleman has been principal horn of the Edmonton Symphony Orchestra since [...]
Holy Week
An invitation … to walk with Christ. Your neighbours at Holy Trinity Anglican Church request the honour of your presence at Holy Week Services, April 16th to 20th, 2014.   Please join with us as we seek to celebrate God's love, to enjoy fellowship together, and to be reminded that God's love in Christ [...]
If anyone is devout and a lover of God, let him enjoy this beautiful and radiant festival. If anyone is a wise servant, let him, rejoicing, enter into the joy of his Lord. If anyone has wearied himself in fasting, let him now receive his recompense. If anyone has labored from the first hour, let [...]
The Great Vigil of Easter, Saturday April 19th @ 8 PM. The Great Vigil, when observed, is the first service of Easter Day. It will be celebrated at 8 PM on April 19th beginning  outside with the Service of Light. The service normally consists of four parts: 1.  The Service of Light. 2.  The [...]
Sunday April 13 8:30 & 10:30 AM Passion Sunday w/ Liturgy of the Palms Wednesday April 16 7 PM Tenebrae Thursday April 17 6 PM Agape Meal 7 PM Maundy Thursday Eucharist w/ foot washing Friday April 18 10 AM Good Friday Children's Walk 12 Noon Good Friday Worship Saturday April 19 7 PM Youth-led Contemporary Easter Vigil [...]
The glory of Easter is the heart of the Christian gospel. It is the centre of the Church's faith and worship. In the earliest days of the Church it was the only Christian festival: an annual celebration, in one act, of Christ's life, death, resurrection, ascension, and his sending of the Holy Spirit. The celebration lasted fifty days in [...]
Recent Posts
The Holy Trinity Concert Series 
and 
Present
ESO All-Star Featuring:
Allene Hackleman – Horn
&
Sarah Ho – Piano
Sunday, May 18th, 2014 at 2:00pm
Holy Trinity Anglican Church
10027 84 Avenue NW
Admission is free
Donations welcome
Allene Hackleman

Hackleman has been principal horn of the Edmonton Symphony Orchestra since 2004. A native of Vancouver, Allene Hackleman studied horn with her father, Martin Hackleman, continuing undergraduate work at the University of Cincinnati. Allene Hackleman has performed with the National Symphony Orchestra and the Montréal Symphony, and has performed concerti with the Edmonton Symphony, Alberta Baroque Ensemble and the Victoria Symphony. She is currently a member of Summit Brass and is on their most recent CD release. Allene Hackleman enjoys chamber music and has been a guest artist at the Festival of the Sound in Parry Sound. She teaches at the University of Alberta, Edmonton.
Sarah Ho
Pianist Sarah Ho is a leading Canadian soloist, chamber musician, collaborative artist, teacher and adjudicator. She performs frequently in concerts, festivals and competitions in Canada, the United States and Europe. She has appeared as concerto soloist with the Edmonton Symphony Orchestra, the
National Arts Centre Orchestra, and the Kitchener-Waterloo Chamber Orchestra, and her performances are frequently heard on CBC radio. Sarah studied at Indiana University with Menahem Pressler and at Yale University, with Claude Frank.
A resident of Edmonton, Sarah Ho is extremely active in the Edmonton musical community. Sarah Ho is on the piano faculty at the Alberta College Conservatory of Music of MacEwan University and is Assistant Artistic Director of the Edmonton Recital Society.
Come and enjoy an afternoon of beautiful music with the
Vaughan String Quartet 
Program:
      J. S. Bach: The Art of Fugue – Contrapunctus IV and IX
      L. van Beethoven: String Quartet Op. 18 No. 4 in C minor
      J. Brahms: String Quartet Op. 51 No. 1 in C minor
Sunday, May 11th, 3:00pm
Holy Trinity Anglican Church
10037 84 Avenue NW
Tickets $20 or $10 with valid student ID
Tickets available at the door or at TIX on the Square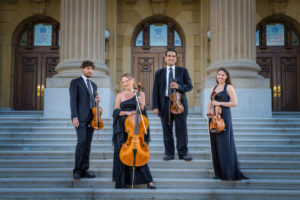 Huge Rummage Sale
Holy Trinity Anglican Church
Corner of 101 St. and 84 Ave.
Friday, April 25th 6:00 to 9:00pm
Saturday, April 26th 9:30am to 1:00pm
Small Furniture – Clothing – Household – Books – Toys – Treasures – Baking – Collectibles 
Something for Everyone! 
Free Admission!
An invitation …
to walk with Christ.
Your neighbours at Holy Trinity Anglican Church
request the honour of your presence
at Holy Week Services,
April 16th to 20th, 2014.
Please join with us as we seek to celebrate God's love,
to enjoy fellowship together,
and to be reminded that God's love in Christ
makes all the difference.
Wednesday, April 16th, Tenebrae
6:00 p.m. – Tenebrae (Latin for "shadows" or "darkness") is a meditative liturgy of preparation and reflection in the midst of Holy Week.  Through prayer, scriptural narrative, silence, and psalm, we track the deepening darkness of our Lord's Passion.  Timed in the evening with the setting of the sun, we progressively extinguish candles and lights to contemplate Jesus' walk to the cross and his death.  The service ends with an echo of resurrection hope as, in darkness, a loud noise is made and a single candle is returned into view.
Thursday, April 17th, Maundy Thursday
6:00 p.m. – Join us for an agape meal in the Lower Hall,
followed by a Maundy Thursday Eucharist service with foot washing.
Friday, April 18th, Good Friday
10:00 a.m. – Good Friday Children's Walk
Kid's of all ages are welcome to gather for our annual stations of the cross walk at Holy Trinity.  Begin in the upper room remembering the last supper and Jesus washing the disciple's feet.  Move to the garden for his arrest and on to his trial, condemnation, crucifixion, and burial.  Together we wait for Easter.  Very ably led by Nathan Kowalsky and a great way to engage kids in the difficult but beautiful story of Jesus' Passion.  Props and dramatic elements are used wherever possible as we move from site to site around the church.  Snacks provided at end.
12:00 noon – Good Friday solemn liturgy service.
Saturday, April 19th, Easter Vigil
8:00 p.m. - Come and celebrate the night when Jesus broke the chains of death and rose triumphant from the grave! This service begins outside with the Service of Light, and ends inside with the Holy Eucharist and administration of Easter Communion. Join us for a celebratory reception following the service.
Sunday, April 20th, Easter Sunday
 8:30 a.m. – An Easter Eucharist from the Book of Common Prayer, celebrated with the Holy Trinity choir and instrumental ensemble.
10:30 a.m. – An Easter Eucharist from the Book of Alternative Services, celebrated with the Holy Trinity choir and
instrumental ensemble.
Bring a friend and join us!
Ascend Leadership Project: Apply Today!
In September 2014, eight young Christians (aged 19-29) will move into Ascension House (the rectory of Christ Church) in downtown Edmonton and live in community for 10 months. Monday to Friday, 9-5, these young leaders will have the opportunity to work. On evenings and weekends they will participate in project activities, including daily prayer, mentorship, and developing their spirituality and leadership skills through hands-on experiences. If you are a Christian young adult who wants to grow in your spirituality and leadership skills next year, the Ascend Leadership Project welcomes your application. For more information or to apply, visit http://www.ascendleadershipproject.com
Too busy to make it to church today for the service?  Haven't been in a church for a long time but want to take part?  Just interested in the whole Ash Wednesday process?  Come and be a part of it this morning, March 5, 2014 between 6-9 AM at Century Park, Southgate, Central & Churchill LRT stations and also from 12-1 PM at the U of A Main Quad, 10:30 on Alberta Avenue and 11:30-1 in Old Strathcona around an on Whyte Avenue.
Remember that you are dust and to dust you shall return.