Arts at Holy Trinity
Holy Trinity is pleased to have artist Cindy Barratt showing her exhibition "The Iconic Alberta Rose" in the Trinity Gallery (Upper Hall).  Please stop by the gallery when you are next at the church and see all the beautiful artwork.  Cindy Barratt, ASA Cindy was born and resided in Spruce Grove, Alberta until 2009, […]
Pentecost Season Events
Spring/Summer Season Critical Time to Give Blood: Do you have an hour to give? Through the Canadian Blood Services Partners for Life program, the Edmonton diocese has pledged to give 100 units of blood in 2016. To date, 14 units of blood have been given by members of the diocese. Every 60 seconds in Canada, […]
Education for Ministry (EfM) Want to learn more about your faith? Want to be part of a group that engages in ongoing theological questioning? Consider enrolling in EfM, a theological study program that goes beyond traditional bible study, covering Old Testament, New Testament, Church History, and topics in Theology. It is a four year program, […]
Holy Trinity will be holding a Pride Worship Service on Sunday, June 5th at 5:30pm, in conjunction with Haven. Please come and join us as we worship together. All are welcome.
 Pub Theology Join us for Pub Theology! All sessions are from 7-9pm at The Pourhouse Bier Bistro (10354 Whyte Ave.).  January 21: Hospitality February 18: Our Common Home March 17: Extremism and Religious Plurality April 21: Authenticity in a made to order world May 19: Hipsters and God Contact Us: Holy Trinity Anglican Church […]
Come and join a group of young adults at Holy Trinity who are figuring out how to live their faith together. We're reading through the Gospel of Matthew on Tuesday nights from 6-8pm over a potluck meal. Childcare is provided. All are welcome and there is no obligation to come every week! If you're interested […]
Recent Posts
Spring/Summer Season Critical Time to Give Blood: Do you have an hour to give? Through the Canadian Blood Services Partners for Life program, the Edmonton diocese has pledged to give 100 units of blood in 2016. To date, 14 units of blood have been given by members of the diocese. Every 60 seconds in Canada, someone needs blood or a blood product. More than 200,000 blood donations are needed nationally by the beginning of July. While nearly 50% of all Canadians report that they or a family member have needed a blood donation, less than 4% of eligible donors actually give. It often takes many donors to help one patient. For example, it can take eight donors per week to help a Leukemia patient during treatment and up to 50 donors to help save the life of a car accident victim. The donation process takes about an hour from the moment you walk in the door to when you are enjoying cookies and juice in the refreshment area. You can donate whole blood every 56 days. At the main Edmonton clinic there are programs to donate plasma which can be done once per week and a platelet program where a donor can give every 12 days. For your donation to count toward our diocese's annual goal, register online (with Google Chrome) by visiting www.blood.ca/joinpartnersforlife and enter our Partner ID code: ANGL696986, or download the app "giveblood" to your smartphone. You can also call 1-888-2DONATE (1-888-236-6283) to book or to speak to a nurse if you have eligibility questions.
Want to learn more about your faith? Want to be part of a group that engages in ongoing theological questioning? Consider enrolling in EfM, a theological study program that goes beyond traditional bible study, covering Old Testament, New Testament, Church History, and topics in Theology. It is a four year program, but students commit and enroll for only one year at a time. EfM will enrich your understanding of the nature of faith and give you the knowledge you need to help you answer the questions of faith that arise in your life. If this interests you, please contact the Rev. Robin Walker, Diocesan EfM Coordinator, at 587-523-4297 or by email at robin_walker1948[at]outlook.com.
Holy Trinity will be holding a Pride Worship Service on Sunday, June 5th at 5:30pm, in conjunction with Haven. Please come and join us as we worship together. All are welcome.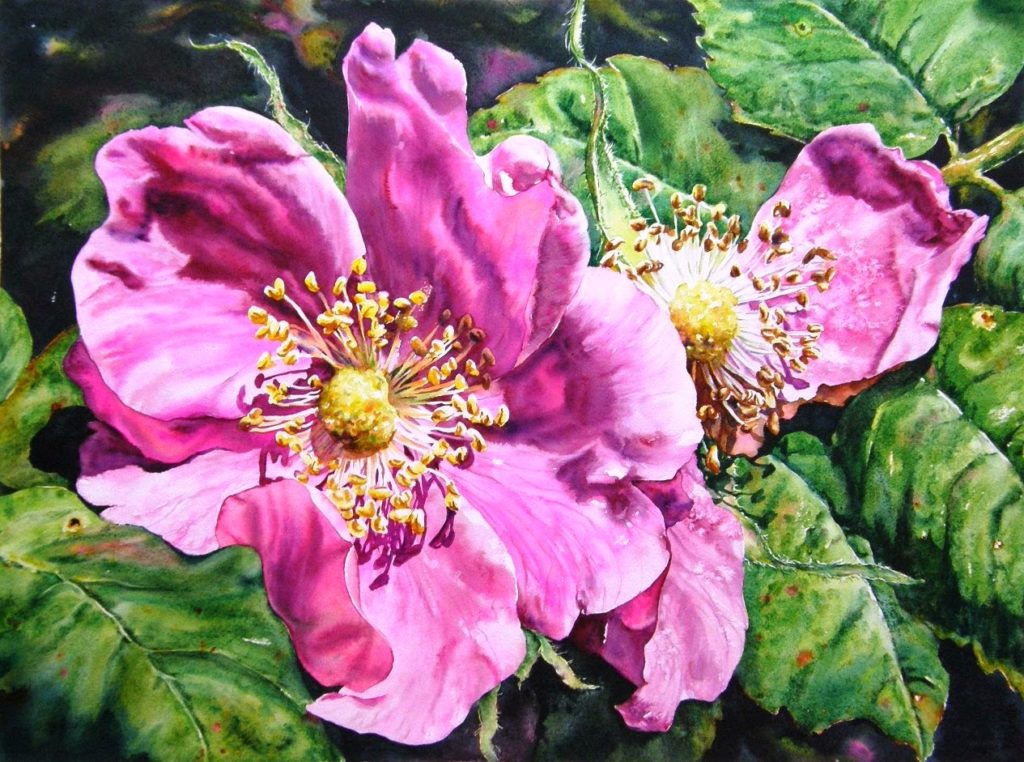 Holy Trinity is pleased to have artist Cindy Barratt showing her exhibition
"The Iconic Alberta Rose" in the Trinity Gallery (Upper Hall). 
Please stop by the gallery when you are next at the church and see all the beautiful artwork. 
Cindy Barratt, ASA
Cindy was born and resided in Spruce Grove, Alberta until 2009, at which time she moved nearby to Stony Plain.  She is a self-taught, professional artist, who was interested in art since childhood and in 1991 decided to pursue it as a full-time career.  She is very active in the arts community and is a longstanding member of the Allied Arts Council of Spruce Grove and juried full member of the Alberta Society of Artists and volunteers with both organizations.  She currently teaches classes and workshops at Metro Continuing Education in Edmonton, the AAC in Spruce Grove, and various communities in Alberta.
Cindy is an award winning artist and her work can be found in collections such as the Alberta Foundation for the Arts, Alberta Treasury Branches, Parkland County, Saskatchewan Government Insurance and the City of Spruce Grove as well as many more corporate and private collections.  She is represented by The Art Gallery of Alberta – Sales & Rental Gallery, Edmonton, Candler Art Gallery in Camrose, AB, Leighton Art Centre, Calgary, AB, and The Spruce Grove Art Gallery, AB.
For many years Cindy primarily worked in watercolour or acrylic, painting bold floral portraits.  In recent years she has broaden her scope of work to include landscapes, flora and fauna of various conservation and natural areas in the hopes she can generate appreciation, educate and promote the importance of conserving and protecting natural areas, habitats and their species.
The Pirates of Penzance
May 15 and 16, 2016 at 7:30PM
Holy Trinity Anglican Church
10037 84 Ave. NW, Edmonton
Two ONE-WAY Tickets To Broadway Productions is presenting another world-famous Gilbert & Sullivan operetta, in a concert setting accompanied by a live orchestra.
This concert performance is conducted by Martin Galba, directed by Carolyn Waye and is stacked with amazing local classical talent! We are so thrilled to have many alumni back with us (borrowing a few members of the Edmonton Opera Chorus along the way) – Victoria Biel (Into The Woods, The Mikado, Little Shop of Horrors) in the role of Mabel; Ron Long (The Mikado, La Cage Aux Folles, Titanic, Sweeney Todd) in the role of Frederic; Glynis Price (The Mikado, Kiss of the Spider Woman, The Drowsy Chaperone) in the role of Ruth; Stephanie Bent (The Mikado) in the role of Kate; Kendra Benterud (Into The Woos) in the role of Isabel; and introducing newcomers to our company Clint Hagel in the role of The Pirate King; Alla Salakhova in the role of Edith;  Garreth Borgstrom in the role of Samuel; Dwane Kunitz in the role of Major General; Adam Conway in the role of Sargeant with Harry Currie, Susan Henley, Holly Parkis, Matt Read, Carolyn Waye​ – accompanied by a 12 piece live orchestra.
Funds raised from this fundraisers will provide financial assistance to local elementary, junior and senior high school students and allow them to attend one of our 2016.2017 Season performances of Broadway Musicals free of charge.
About the show 
Frederic, who, having completed his 21st year, is released from his apprenticeship to a band of tender-hearted pirates. He meets Mabel, the daughter of Major-General Stanley, and the two young people fall instantly in love. Frederic soon learns, however, that he was born on 29 February, and so, technically, he only has a birthday each leap year. His indenture specifies that he remain apprenticed to the pirates until his "twenty-first birthday", meaning that he must serve for another 63 years. Bound by his own sense of duty, Frederic's only solace is that Mabel agrees to wait for him faithfully.
The Pirates of Penzance was the fifth Gilbert and Sullivan collaboration and introduced the much-parodied "Major-General's Song". The opera was performed for over a century by the D'Oyly Carte Opera Company in Britain and many other opera companies and repertory companies worldwide. Modernized productions include Joseph Papp's 1981 Broadway production, which ran for 787 performances, winning the Tony Award for Best Revival and the Drama Desk Award for Outstanding Musical, and spawning many imitations and a 1983 film adaptation. Pirates remains popular today, taking its place along with The Mikado and H.M.S. Pinafore as one of the most frequently played Gilbert and Sullivan operas.
The Rummage Sale is Coming!
Work starts after the 10:30 service on April 24 and continues throughout the week.
Lots of help will be needed to set up on April 24. Remember – many hands make light work!
Sale times: April 29, 6-9PM & April 30, 9:30 to 2PM   
You Can Donate: Clothing – clean, in good shape, Household goods including kitchenware, china, linens, Books, puzzles, games, toys, Small furniture, small appliances, hardware, gardening tools, sports equipment, Jewelry, pictures, yarn, baskets, Baking to sell on Friday night, Just about anything except computers, baby cribs and equipment.  If you have large furniture, please check with us first to make arrangements.
Please drop off your rummage no sooner than Sunday, April 24 and no later than NOON on Wednesday, April 27. 
You can HELP: There is a job for everyone! Please help out – for an hour, for the whole week. It's fun! Sign-up sheets are in the Lower Hall.