Arts at Holy Trinity
The Pirates of Penzance May 15 and 16, 2016 at 7:30PM Holy Trinity Anglican Church 10037 84 Ave. NW, Edmonton Tickets $20 at TIX on the Square Two ONE-WAY Tickets To Broadway Productions is presenting another world-famous Gilbert & Sullivan operetta, in a concert setting accompanied by a live orchestra. This concert performance […]
Easter Season Events
The Rummage Sale is Coming! Work starts after the 10:30 service on April 24 and continues throughout the week. Lots of help will be needed to set up on April 24. Remember – many hands make light work! Sale times: April 29, 6-9PM & April 30, 9:30 to 2PM    You Can Donate: Clothing – […]
Want to learn more about Messy Church?  Come to the Messy Fiesta!  Saturday, April 9th, 2016, 10:00am to 3:00pm  in the Holy Trinity Lower Hall Messy Church aims to create the opportunity for adults and children to enjoy expressing their creativity, to gather together for a meal, to experience worship and to have fun within […]
 Pub Theology Join us for Pub Theology! All sessions are from 7-9pm at The Pourhouse Bier Bistro (10354 Whyte Ave.).  January 21: Hospitality February 18: Our Common Home March 17: Extremism and Religious Plurality April 21: Authenticity in a made to order world May 19: Hipsters and God Contact Us: Holy Trinity Anglican Church […]
An invitation to walk with Christ  Your neighbours at Holy Trinity Anglican Church request the honour of your presence at Holy Week Services, March 22 to 27, 2016. Please join with us as we seek to celebrate God's love, to enjoy fellowship together, and to be reminded that God's love in Christ makes all the difference. Tuesday, March 22nd, […]
He is Risen indeed! – Ἀληθῶς ἀνέστη!! Hallelujah! Hallelujah! Hallelujah! Hallelujah! Hallelujah! For the Lord God Omnipotent reigneth. Hallelujah! Hallelujah! Hallelujah! Hallelujah!For the Lord God omnipotent reigneth. Hallelujah! Hallelujah! Hallelujah! Hallelujah! Hallelujah! Hallelujah! Hallelujah!The kingdom of this world Is become the kingdom of our Lord, And of His Christ, and of His Christ; And […]
Recent Posts
The Pirates of Penzance
May 15 and 16, 2016 at 7:30PM
Holy Trinity Anglican Church
10037 84 Ave. NW, Edmonton
Two ONE-WAY Tickets To Broadway Productions is presenting another world-famous Gilbert & Sullivan operetta, in a concert setting accompanied by a live orchestra.
This concert performance is conducted by Martin Galba, directed by Carolyn Waye and is stacked with amazing local classical talent! We are so thrilled to have many alumni back with us (borrowing a few members of the Edmonton Opera Chorus along the way) – Victoria Biel (Into The Woods, The Mikado, Little Shop of Horrors) in the role of Mabel; Ron Long (The Mikado, La Cage Aux Folles, Titanic, Sweeney Todd) in the role of Frederic; Glynis Price (The Mikado, Kiss of the Spider Woman, The Drowsy Chaperone) in the role of Ruth; Stephanie Bent (The Mikado) in the role of Kate; Kendra Benterud (Into The Woos) in the role of Isabel; and introducing newcomers to our company Clint Hagel in the role of The Pirate King; Alla Salakhova in the role of Edith;  Garreth Borgstrom in the role of Samuel; Dwane Kunitz in the role of Major General; Adam Conway in the role of Sargeant with Harry Currie, Susan Henley, Holly Parkis, Matt Read, Carolyn Waye​ – accompanied by a 12 piece live orchestra.
Funds raised from this fundraisers will provide financial assistance to local elementary, junior and senior high school students and allow them to attend one of our 2016.2017 Season performances of Broadway Musicals free of charge.
About the show 
Frederic, who, having completed his 21st year, is released from his apprenticeship to a band of tender-hearted pirates. He meets Mabel, the daughter of Major-General Stanley, and the two young people fall instantly in love. Frederic soon learns, however, that he was born on 29 February, and so, technically, he only has a birthday each leap year. His indenture specifies that he remain apprenticed to the pirates until his "twenty-first birthday", meaning that he must serve for another 63 years. Bound by his own sense of duty, Frederic's only solace is that Mabel agrees to wait for him faithfully.
The Pirates of Penzance was the fifth Gilbert and Sullivan collaboration and introduced the much-parodied "Major-General's Song". The opera was performed for over a century by the D'Oyly Carte Opera Company in Britain and many other opera companies and repertory companies worldwide. Modernized productions include Joseph Papp's 1981 Broadway production, which ran for 787 performances, winning the Tony Award for Best Revival and the Drama Desk Award for Outstanding Musical, and spawning many imitations and a 1983 film adaptation. Pirates remains popular today, taking its place along with The Mikado and H.M.S. Pinafore as one of the most frequently played Gilbert and Sullivan operas.
The Rummage Sale is Coming!
Work starts after the 10:30 service on April 24 and continues throughout the week.
Lots of help will be needed to set up on April 24. Remember – many hands make light work!
Sale times: April 29, 6-9PM & April 30, 9:30 to 2PM   
You Can Donate: Clothing – clean, in good shape, Household goods including kitchenware, china, linens, Books, puzzles, games, toys, Small furniture, small appliances, hardware, gardening tools, sports equipment, Jewelry, pictures, yarn, baskets, Baking to sell on Friday night, Just about anything except computers, baby cribs and equipment.  If you have large furniture, please check with us first to make arrangements.
Please drop off your rummage no sooner than Sunday, April 24 and no later than NOON on Wednesday, April 27. 
You can HELP: There is a job for everyone! Please help out – for an hour, for the whole week. It's fun! Sign-up sheets are in the Lower Hall.
The Holy Trinity Concert Series Presents:
A String Thing
April 17th, 2016, 2:00pm
Holy Trinity Anglican Church
10037 84 Ave. NW, Edmonton
Marie Krejcar, violin
Leanne Maitland, viola
Kathleen de Caen, cello
Josh McHan, bass
Julia Hui, piano
Music recital featuring the works of Schumann,
Piazzolla, Forsyth, and Schubert
Free admission. Donations accepted.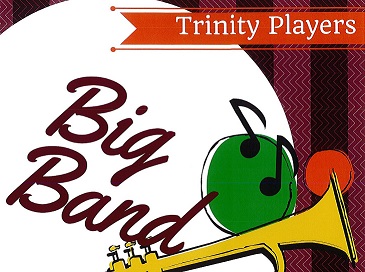 Come see the Trinity Players like never before in our Big Band show.
We will be featuring the live 7 piece Klinker Brick orchestra as we share all your favorites
from the Big Band Era.
The Lower Arts Space at Holy Trinity Anglican will be transformed into a club where you will be taken
back in time to the stylings of Benny Goodman to Frank Sinatra.
June 4th and 5th at 7:30PM
Holy Trinity Anglican Church – 10037 84 Ave. Edmonton
Tickets $15 (plus fees) at Eventbrite
Director-Morgan Kunitz
Musical Director-Darlene Kunitz
The Trinity Players
The Klinker Brick Orchestra
Rehearsal and Show Pianist- Kim Cousineau

MUCKING ABOUT : Connecting with the Self Through Art
Playful Art or Artful Play, this expressive arts workshop is an exploration of the interconnectedness of creativity. A free, three-hour facilitated workshop emphasizes a low skills/high sensitivity approach: in other words, the less you know about art, the better! Give yourself permission to muck about in text, in paint, in sound and in clay. Saturday, March 12th, 1 pm until 4pm. Holy Trinity Upper Arts Space (10037 84 Ave. Edmonton). Register at the church office: church.office@holytrinity.ab.ca or call 780-433-5530. Workshop is capped at 14. Mucking About is a no cell phone zone. All materials provided. Funded by REACH.
The Trinity Gallery in our own Upper Hall will be hosting a new art exhibit beginning February 22nd, featuring the work of Svitlana Kravchuk.
Please join us for an opening reception on February 22nd from 7:00-9:00pm.
Svitlana Kravchuk is a multidisciplinary artist who recently moved to Edmonton from Toronto, where she has resided for the past seven years. Born in Ukraine, raised in the Middle East and now settled in Canada, Svitlana explores concepts of home, displacement, tradition and politics in her work.
Svitlana holds an Honors BA from University of Toronto in Visual Arts and has been a member of Canadian Ukrainian Art Foundation for four years. Svitlana has exhibited her work both locally and internationally, and has been interviewed by the CBC Radio show Here and Now in 2013 about her art, her view of Toronto and the role of small galleries in the city.
At this moment, Svitlana works at the Art Gallery of Alberta and is interested in community involvement. Currently, Svitlana is concentrated on series of paintings, as well as exploring video as a medium in her art.