The ArtSpirit Festival is Back!
ArtSpirit 2015 is back this year with many exciting events planned from June 4th to 7th, 2015.
Check out the information below for the schedule, and check back often as more details are added.
We hope to see you there!
Thursday, June 4th
6:15 to 7:15PM: "Reaching for Reality": An art exhibition featuring the work of Gerald St. Maur. This exhibition offers a representative selection of his work over the past fifteen years. It especially includes images illustrated in his recently published work. The book Eye on sound is a collection of collages exploring the relationship between the visual and musical arts. Searching the skies, seeing through trees is a collection of charcoal landscapes in northern Alberta, while Nocturne is a study of the night sky from dusk to dawn. More adventurous is the use of contrapuntal decoupage in Tyranny of shape. 
7:30 to 9:30PM: Literary Saloon: Four Authors, Four Poets, One Lively Literary Evening: Readings from new Alberta works in fiction, non-fiction, and essays with poetic responses. Featuring: Caterina Edwards, The Sicilian Wife with response by poet Kathy Fisher, Gary Garrison, Human on the Inside: Unlocking the truth about Canada's Prisons with response by Naomi McIlwraith, Laurel Deedrick-Mayne, A Wake for Dreamland, with response by poet Gail Sidonie-Sobat, and Myrl Coulter, Year of Days, with response by poet Margaret Macpherson. Book signings by the authors will be available. Admission: PayWhatYouWill.
Friday, June 5th
SOLD OUT 2:00 to 4:00PM: Strawberries and Cream Tea: Entertainment provided by Opera Nuova, presenting "Songs from Oklahoma!". Tickets are $2/person, and are available from the Holy Trinity church office. SOLD OUT
7:30 to 10:00PM: 'Heroes and Vixens: the good, the bad and the ugly: Cabaret by some of Edmonton's best young professional voices. Produced by Morgan Kunitz. Presenting the musical stylings of Martin Galba, Ron Long, Christina O'Dell, Kathleen Sera, and Kimberley Taylor. Admission is PayWhatYouWill.
Saturday, June 6th
2:30 to 5:00PM and 7:00 to 10:00PM: Wholly Flicks: featuring both short and feature films by Edmonton film makers, including a film by Holy Trinity's own Colin Waugh. Organized by Edmonton film maker Theresa Wynnyk. Admission is PayWhatYouWill.
2:30PM: 
Castles in the Air – Colin Waugh – 11 min.
Colours for Clarinet – John Osborne – 5 min.
Pieces – Braden Rooke – 14:18 min.
Breaking for Love – Jennifer Dacanay – 11:44 min.
Expressions of Love – Justin Currie – 9:37 min.
Voila – Geraldine Carr – 12 min.
7:30PM:
Project Ability – Yvonne DuBordeau/Felix Dubordeau-Greig – 11:16 min.
Taking Flight – Terri Wynnyk – 40 min.
Donuts Build Character – Justin Wiesinger – 10:33 min.
Brothers in the Buddha – Beth MacKenzie – 70 min.
Sunday, June 7th
2:00PM: La Folia: Edmonton's Baroque string ensemble presents works from Rameau, Leclair, Hellendaal, and Allegri. Tickets $20/adults and $10/Seniors, Students, Children. Tickets available from the Holy Trinity church office or at the door.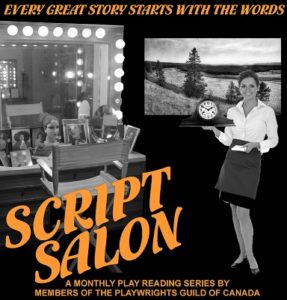 7:00PM: Script Salon: Pacific Time by David Haas. A surprising romance of paradox and personal choice. Admission is PayWhatYouWill.
The ArtSpirit Festival is Made Possible with Generous Support From: