Canadian Chamber Music Weekend – June 9 to 11
Posted On May 18, 2017
Canadian Chamber Music Weekend
June 9th to 11th
Holy Trinity Anglican Church
After closing the Connection Concert Series, the Vaughan String Quartet is presenting a full weekend of chamber music featuring performances, masterclass, workshops and two special guests. With a touch of Canada in everything.
Celebrate Canada 150 with us!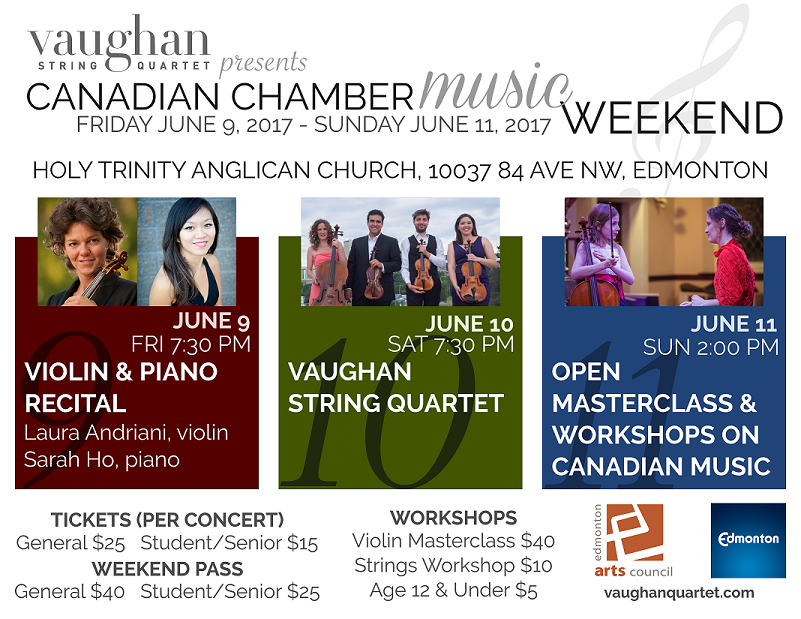 All events at Holy Trinity Anglican Church
10037 84 Ave. NW, Edmonton
Tickets available from vaughanquartet.com or at the door.
Friday, June 9th, 7:30PM: Violin and Piano Recital 
On the first day of the weekend violinist Laura Andriani and pianist Sarah Ho will join forces for an evening of great music. Masterpieces by Beethoven, Faure, McPherson and Annunziata.
Saturday, June 10th, 7:30PM: String Quartet Recital
On the second day of the weekend the Vaughan String Quartet will perform the pieces included in their first CD, which is currently being recorded, and that represent the diverse background of the group. The program will feature the Brazillian folkloristic String Quartet No. 1 by Heitor Villa-Lobos and new compositions dedicated to the quartet by the young and talented Italian composers Davide Runcini and Simone Boi, along with the inspiring "Traces of a Silent Landscape" by Canadian Robert Rival.
Sunday, June 11th, 2:00PM: Open Masterclass and Workshop
Violin and viola masterclass with Laura Andriani for students and music players. Whether you are an amateur musician, a student or a professional, it is always great to share opinions and feelings about the art of performing with a great musician!
Strings workshop for everyone with the Vaughan String Quartet – workshop for music lovers of all ages. Instruments for students will be provided by Mr. Eric Tan (PJ Tan Violin Shop).